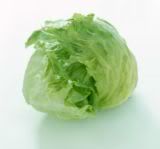 Now even my food shopping receipt is R-rated. I went to Shop Rite on Sunday [big mistake! Not only is it the first weekend of the month, it's also the beginning of the Can-Can Sale. The place was a three-ring circus!]
After fighting the crowds for nearly two hours [yeah, I shop slow] I got home, put everything away, had lunch and sat down to record my purchases in my computerized checkbook. [I let Excel do my math for me. Calculators are beyond my expertise.] My wandering gaze just happened to fall on the following line item:
Lettuce Naked .99
I guess that means it had no dressing. LOL.
I decided to check out the rest of the list and I found:
Special Banana Nak 1.79
And I thought my bananas were just average. I guess they're naked too.
Then I found
Imp Navel 2.66
I suppose a publication full of naked lettuce and imp navels could be considered erotica? Maybe I should send this to my agent.